My Dh and I met in March of 2000 and were married May 18, 2003. We suffered our first m/c 3 weeks after our wedding night. We had done just what we hoped and dreamed of, we had conceived our first child on our wedding night/honeymoon.

After our first m/c we decided to hit TTC really hard. After 10 (March 2003) months of nothing happening we sought help from our family doctor...he prescribed us 50mg of Clomid. This was or miracle drug....on April 10, 2003 we got our BFP!! And Delainey Chevelle was born on 11-28-03 weighing 5 lbs 6 oz. She is the true light of our lives and the job that she has brought us is indescribable.
We started TTC #2 as soon as we were given the go ahead, but because I was bfing I didn't want to start the clomid right away so we waited until June 2004...we have since done 4 rounds of clomid and one IUI... The months that we have been taking breaks is when we have actually gotten our BFPs but unfortunately we have suffered 3 more m/c since trying to conceive #2. We are praying for a 2005 BFP (with a sticky bean).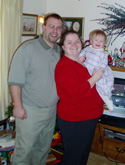 Here is a picture of Delainey Chevelle born 11-28-2003 Our first clomid baby and sticky bean